In Drama Reborn Rich Song Joong Ki, Shin Hyun Bin, and Lee Sung Min star. From November 18, 2022, on JTBC. Reborn Rich brings the story of how dirty the power struggle is within the Korean company, Soonyang Group. This drama with Business, Drama, and Fantasy, themes are adapted from a popular webtoon "Youngest Son of a Conglomerate". Here We provide Quotes Drama Reborn Rich with cast and synopsis.
SYNOPSIS
Yoon Hyun-Woo (Song Joong Ki) has worked for Soonyang Conglomerate for more than ten years. Most of his job is to take care of the family who runs the business. His job is similar to a servant's, but the conglomerate family wrongly thinks he stole money from them. Then, their youngest son Jin Do-Joon kills him. The next thing he knows, Yoon Hyun-Woo is in the body of Jin Do-Joon, the family's youngest son. He decides to get back at the family that runs Soonyang Conglomerate and also runs the business.
DRAMA DETAIL
Drama: Reborn Rich (English title) / The Chaebol's Youngest Son (literal title)
Hangul: 재벌집 막내아들 (Chaeboljib Maknaeadeul)
Director: Jung Dae-Yoon
Writer: San Kyeong (web novel), Kim Tae-Hee
Network: JTBC
Episodes: 16
Release Date: November 18, 2022 —
Runtime: Friday-Sunday 22:30
CAST
Song Joong Ki as Jin Do Joon / Yoon Hyun Woo
Lee Sung Min as Jin Yang Chul
Shin Hyun Bin as Seo Min Young
Jo Han Chul as Jin Dong Ki
Kim Nam Hee as Jin Seong Joon
Kang Gi Doong as Jin Hyung Joon
Park Ji Hyun as Mo Hyun Min
Kim Jung Nan as Son Jung Rae
Tiffany Young as Rachel
Kim Young Jae as Jin Yoon Ki
Kim Shin Rok as Jin Hwa Young
Kang Gil Woo as Baek Sang Moo
Kim Do Hyun as Choi Chang Je
Seo Jae Hee as Yoo Ji Na
Kim Hyun as Lee Pil Ok
Kim Jeong Woo as Woo Byung Jun
Lee Byung Joon as Joo Young Il
Park Ji Hoon as Ha In Seok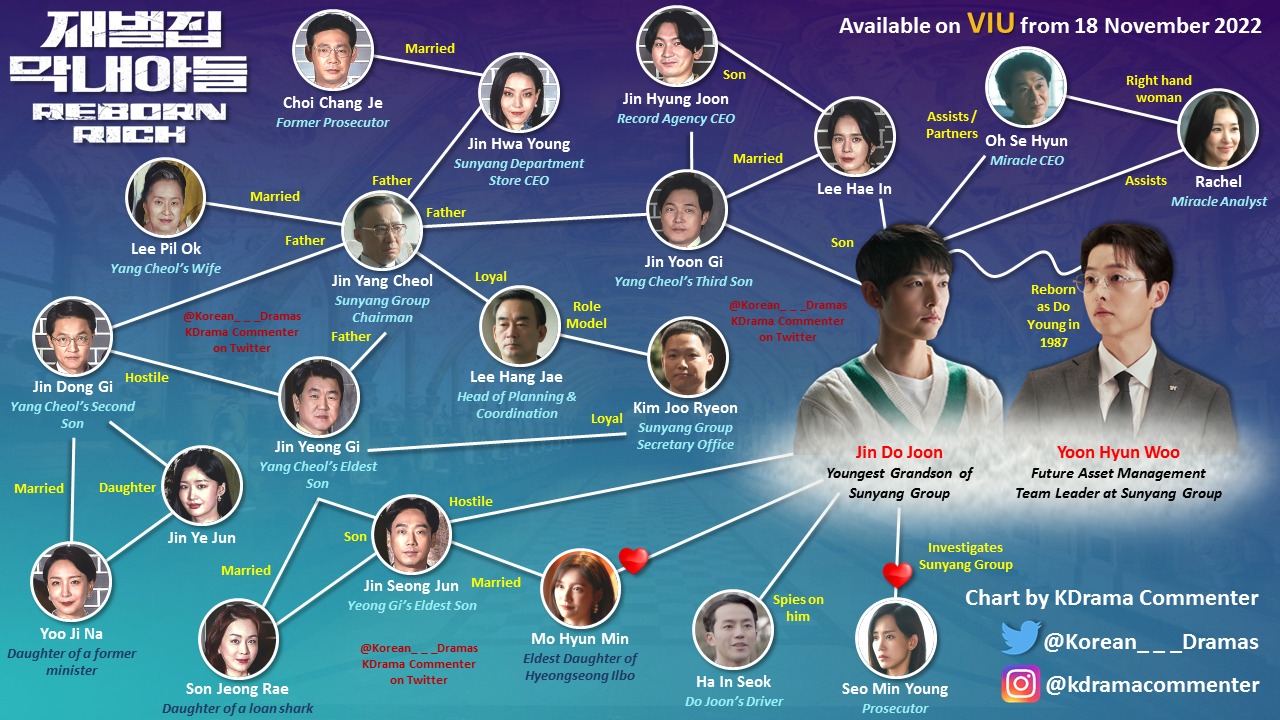 Quotes Line from Drama Reborn Rich Episode 15
I was worried and pray every day.
For my neat and organized son to live with someone who can reach out to you as if it's nothing
when you're having a tough time, and you can open up to them without becoming embarrassed.
-Jin Do Joon Mom-
In the end, money is what makes the world turn.
-Oh Se Hyeon-
When she participates in the Beijing 2008 Summer Olympics, let's get married.
By the time she's participating in the London 2012 Summer Olympics,
We'd probably have a kid by then, right?
I want to stay right by your side like that, Min Yeong.
-Jin Do Joon-
The rule had no exceptions.
Everything that happened in my previous life,
happened again in this lifetime without exception.
And the person who killed me was none other than myself.
-Jin Do Joon-
Quotes Line from Drama Reborn Rich Episode 13
COMING SOON
You Can Watch the Legally Korean Drama Reborn Rich on here
Latest K-Drama  Reborn Rich on cafehallyu
Captured and written by: sparkling @ cafehallyu
CafeHallyu
is supported by advertising and affiliate links (we'll make money from links you buy at no extra cost to you) which help keep the lights on. If you like what you see, please
whitelist us from your adblocking software
so that we can keep doing what we do.