In Drama Cheer Up Han Ji Hyun, Bae In Hyuk, Kim Hyun Jin, Jang Gyu Ri, Lee Eun Saem, and Yang Dong Geun star. From October 3 – December 5, 2022, on SBS. Cheer Up brings the story of a college student who has been through a lot in their life. Not only that, but the Korean drama Cheer Up will also show how the main character is happy and finds love through the cheerleading club. This drama with Mystery, Comedy, Romance, and Youth, themes will catch people's attention with a light story. Here We provide Quotes Drama Cheer Up with cast and synopsis.
SYNOPSIS
Do Hae-Yi, who is played by Han Ji-Hyun, goes to Yonhee University. She is brilliant and works hard. Because her family doesn't have much money, she makes money ahead of going to school. One day, Do Hae-Yi joins cheer squad Theia out of the blue. She joins the club only to make money. At Yeonhee University, the cheering squad has been around for 50 years. Do Hae-Yi enjoys campus life and meets many people from Theia while she is on the cheerleading team. Some of these people are Park Jung-Woo (Bae In-Hyuk), Jin Sun-Ho (Kim Hyun-Jin), Tae Cho-Hee (Jang Gyu-Ri), Joo Sun-Ja (Lee Eun-Saem), Bae Young-Woong (Yang Dong-Geun). Bae Young-Woong used to be in a band called Theia, and he went to Yonhee University. He gives money and emotional support to the cheerleading team.
DRAMA DETAIL
Drama: Cheer Up
Hangul: 치얼업 (Cheer Up)
Director: Han Tae-Seob
Writer: Cha Hae-Won
Network: SBS
Episodes: 16
Release Date: October 3 – December 5, 2022
Runtime: Mon & Tue 22:00
MAIN CAST
Han Ji Hyun as Do Hae Yi
Bae In Hyuk as Park Jung Woo
Kim Hyun Jin as Jin Sun Ho
Jang Gyu Ri as Tae Cho Hee
Lee Eun Saem as Joo Sun Ja
Yang Dong Geun as Bae Young Woong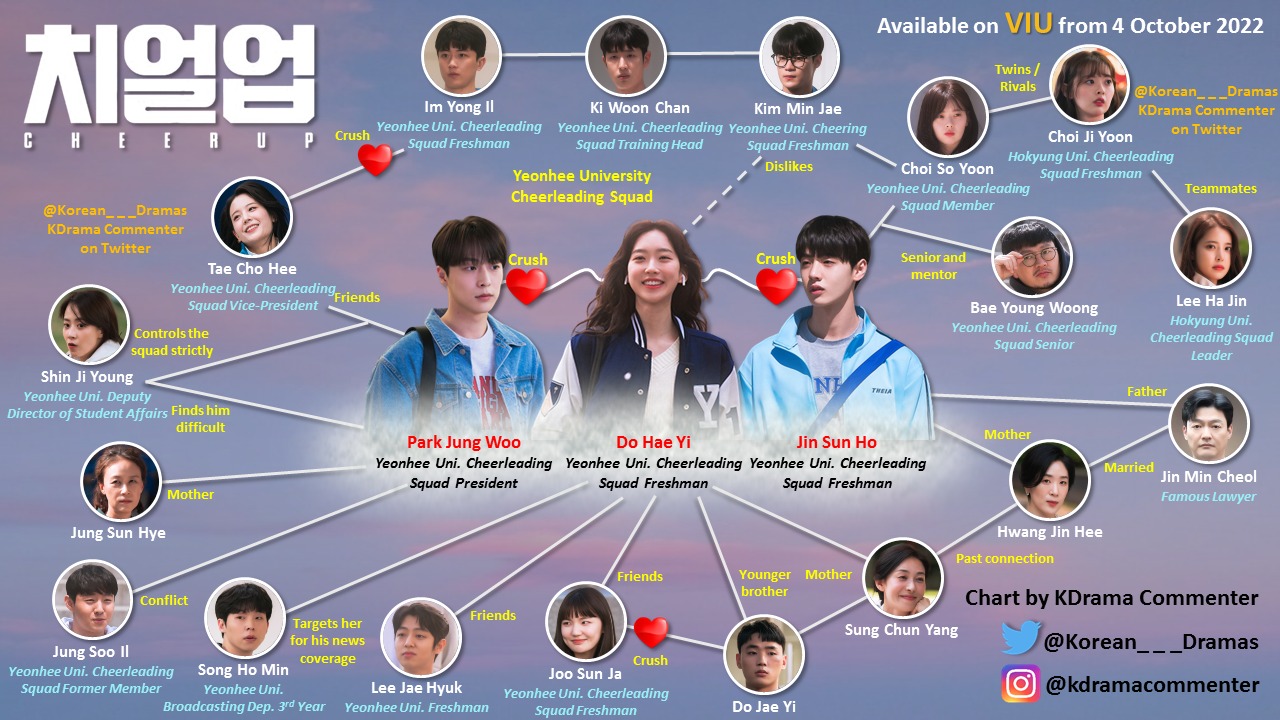 Quotes Line from Drama Cheer Up Episode 10
Being famous is such a hassle.
-Sung Chun Yang-
For the first time in my life,
I'm going to be in unrequited love.
-Jin Sun Ho-
I won't be able to enjoy myself because I'm worried about work.
-Shin Ji Young-
I don't know how much money you made, but money isn't the problem.
You shouldn't keep hanging around the cheering squad and living like a bum at your age.
-Shin Ji Young-
Quotes Line from Drama Cheer Up Episode 11
The route you're taking is different from normal kids.
Should you be playing around just because others are doing so?
-Jin Sun Ho Mother-
The wire transfer record is concrete evidence.
If you can't explain it, it'll be hard to avoid a guilty sentence.
-Kim Jin Il-
I seem to have no purpose or ambition in life.
There were times when I lived for my purpose and ambition.
I focused only on work without eating and sleeping.
-Bae Young Woong-
I had no goal in life, except for making money.
-Bae Young Woong-
You must've gone through a lot.
Well, everyone goes through a lot in life.
But I'm sorry for my thoughtless words.
-Shin Ji Young-
Being popular is good.
It means other people think you're a good guy as well.
-Choi Ji Yoon-
At first, I was afraid because my feelings for you were growing.
Then, I was afraid my feelings would give you a hard time.
-Park Jung Woo-
What I was afraid of the most was…
ending up losing you without saying anything.
-Park Jung Woo-
From Han Ji Hyun's real mom:
"It's too bad with Sun Ho's efforts, but the person who puts the umbrella only on you
and lets his shoulders get wet will make you happier and love you more. I like Jung Woo too."
-Han Ji Hyun's Mother-
You Can Watch the Legally Korean Drama Cheer Up on Viki
All About Korean Drama Cheer Up  here
Captured and written by: sparkling @ cafehallyu
CafeHallyu
is supported by advertising and affiliate links (we'll make money from links you buy at no extra cost to you) which help keep the lights on. If you like what you see, please
whitelist us from your adblocking software
so that we can keep doing what we do.