In Drama The Forbidden Marriage Kim Young Dae, Park Ju Hyun, and Kim Woo Seok star. From December 9, 2022 – January 14, 2023, every Friday and Saturday at 22:00 on MBC. The Forbidden Marriage brings the story of a king who lost his beloved wife seven years ago, the Joseon kingdom has a rule against marriage as a result of the queen's death. Here We provide Quotes Drama The Forbidden Marriage with cast and synopsis.
SYNOPSIS
Joseon's king is Lee Heon, whose real name is Kim Young-Dae. When he was a crown prince, 7 years ago, his beloved wife died. He still can't get over the fact that she died. Since 2007, members of the royal family and the government have been trying to get King Lee Heon remarried, but they have not been successful. The country has also made the geumhonryung edict, which says that no single women can get married while the king is still single. People are very angry about the ban on marriage. One day, King Lee Heon hears about a woman named Ye So-Rang (Park Ju-Hyun) who says that the spirit of the king's late wife lives in the royal palace.
Ye So-Rang, on the other hand, is a con artist who says she can read martial harmony signs. She is picked up by Officer Lee Shin-Won (Kim Woo-Seok) and put in jail where he works. She pretends to be possessed by a spirit in front of Lee Shin-Won to get out of her situation. During her trick, she says that King Lee Heon's late wife's spirit still lives in the royal palace. She is then brought before the king, who asks her if she really can see the spirit of his late wife. Ye So-Rang acts like the king's dead wife is in her body so she can stay alive. Ye So-lies Rang's are getting bigger and riskier.
DRAMA DETAIL
Drama: The Forbidden Marriage (English title) / Geumhonryung, Joseon's Ban on Marriage (literal title)
Hangul: 금혼령, 조선 혼인 금지령 (Geumhonryung, Joseon Honin Geumjiryung)
Director: Park Sang-Woo
Writer: Chun Zi-Hye (web novel & screenplay)
Network: MBC
Episodes: 12
Release Date: December 9, 2022 – January 14, 2023
Runtime: Friday & Saturday 22:00
MAIN CAST
Kim Young Dae as Lee Heon
Park Ju Hyun as Ye So Rang
Kim Woo Seok as Lee Shin Won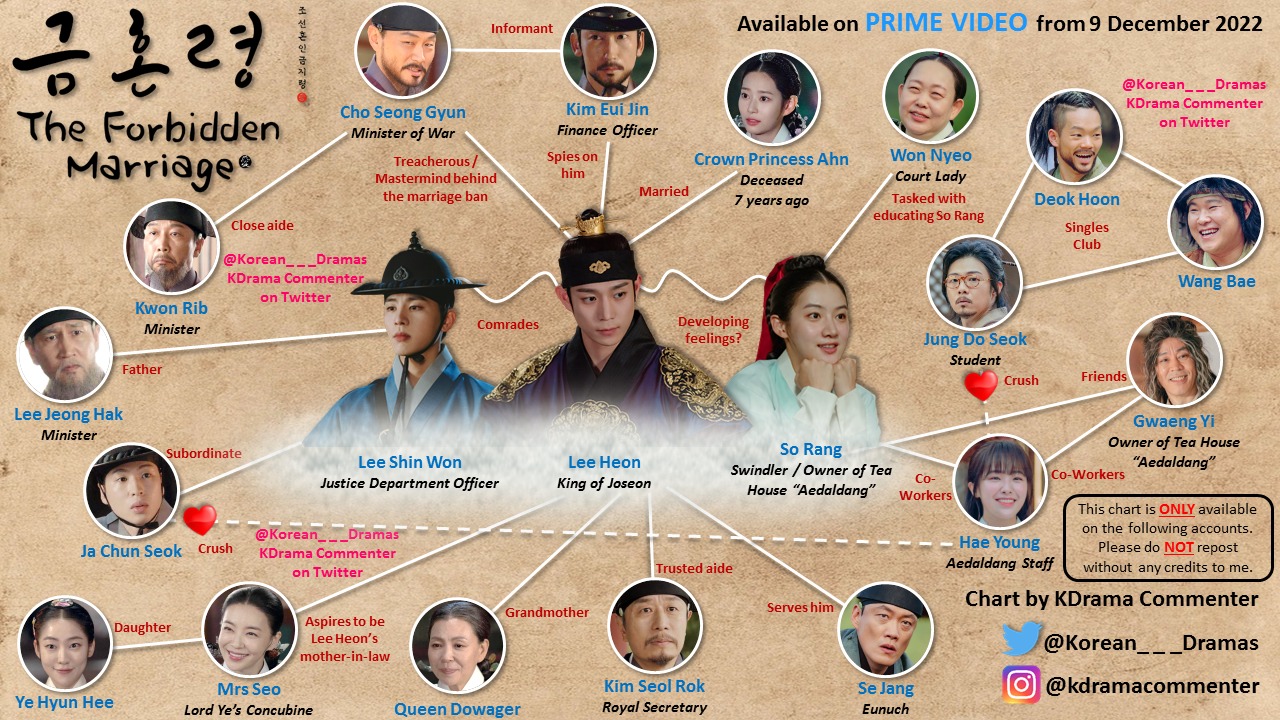 Quotes Line from Drama The Forbidden Marriage Episode 3
From now on, eat at a warm place and sleep in a nice one.
And wear only flower shoes.
-Lee Shin Won-
The reason you can't promise to forget is because of what?
Guilt, unresolved feelings, or regret?
-Ye So Rang-
A person who looks back at the past and regrets is still doing things to regret now?
Your actions can hurt others.
-Ye So Rang-
A gentleman shouldn't attack someone's weak spot.
-Ye So Rang-
When it comes to grudges, the young men and women's grudges who can't marry would be worse.
Compared with those of wild animals?
-Ye So Rang-
Quotes Line from Drama The Forbidden Marriage Episode 4
Lee Heon:
I have no love, hidden intention, or desire left in me.
Ye So Rang:
The love, hidden intention and desire you've lost…
Should I restore them?
You must have forgotten that all palace ladies are king's ladies.
A king is a man too.
Don't you ever tease me with something like this again.
-Lee Heon-
Lee Shin Won:
You're becoming incomparably warmer before.
But if your heart is getting fierce, please keep it down.
Your change, your swaying, shouldn't be found out by others.
Lee Heon:
I'm confused because I'm not sure of my feelings.
I'm not following the heart that's changing.
If I'm sure of my feeling then I won't hesitate.
Let me know when your butterfly leaves your garden.
I Will become the wind to move that butterfly.
Lee Shin Won:
Is palace life fun?
Ye So Rang:
It's fun. It's not bad.
Lee Shin Won:
It's not an easy place as you think.
You don't know when bloodshed will happen.
You Can Watch the Legally Korean Drama The Forbidden Marriage  here also here
Latest K-Drama  The Forbidden Marriage on cafehallyu
Captured and written by: sparkling @ cafehallyu
CafeHallyu
is supported by advertising and affiliate links (we'll make money from links you buy at no extra cost to you) which help keep the lights on. If you like what you see, please
whitelist us from your adblocking software
so that we can keep doing what we do.