In Drama Alchemy of Souls Season 2 Lee Jae Wook, Go Yoon Jung, Hwang Min Hyun star. From December 10, 2022 – January 8, 2023 on tvN every Saturday and Sunday at 21:10. Alchemy of Souls Season 2 brings the story of A powerful sorceress in a blind woman's body who encounters a man from a prestigious family, who wants her help to change his destiny (Source: Netflix).  This drama with action, historical, and fantasy themes will catch people's attention. Here We provide Quotes Drama Alchemy of Souls Season 2 with cast and synopsis.
SYNOPSIS
In the country of Daeho, 3 years later, Jang Uk spends his lonely days looking for soul shifters. He has the ice stone inside him, which is what let him be reborn. Jin Bu-Yeon (Ko Yoon-Jung), the main character in Jinyowon, has lost all of her memories and divine powers. Master Lee Cheol (Lim Chul-Soo) helped bring her back to life three years ago Jin Bu-Yeon is now hidden in Jinyowon in a secret room.
One night, Jang Uk goes after a soul-shifter who is running wild in Jinyowon. He meets Jin Bu-Yeon and thinks she is a Jinyowon priestess who has been locked up. Jin Ho-Gyeong, who is played by Park Eun-Hye, is the head of the Jin family. She wants to marry off her oldest daughter Jin Bu-Yeon to someone from the Seo family. She will also keep her in the same room for the rest of her life. Jin Bu-Yeon runs into Jang Uk again on the way there. They know each other and each has something that the other could use. Jin Bu-Yeon asks Jang Uk to marry her on a whim.
DRAMA DETAIL
Drama: Alchemy of Souls: Light and Shadow (Alchemy of Souls Season 2)
Hangul: 환혼: 빛과 그림자 (Bitgwa Geurimja)
Director: Park Joon-Hwa, Bae Hyun-Jin
Writer: Hong Jung-Eun, Hong Mi-Ran
Network: tvN
Episodes: 10
Release Date: December 10, 2022 – January 8, 2023
Runtime: Sat. & Sun. 21:10
CAST
Lee Jae Wook as Jang Uk
Go Yoon Jung as Jin Bu Yeon
Hwang Min Hyun as Seo Yul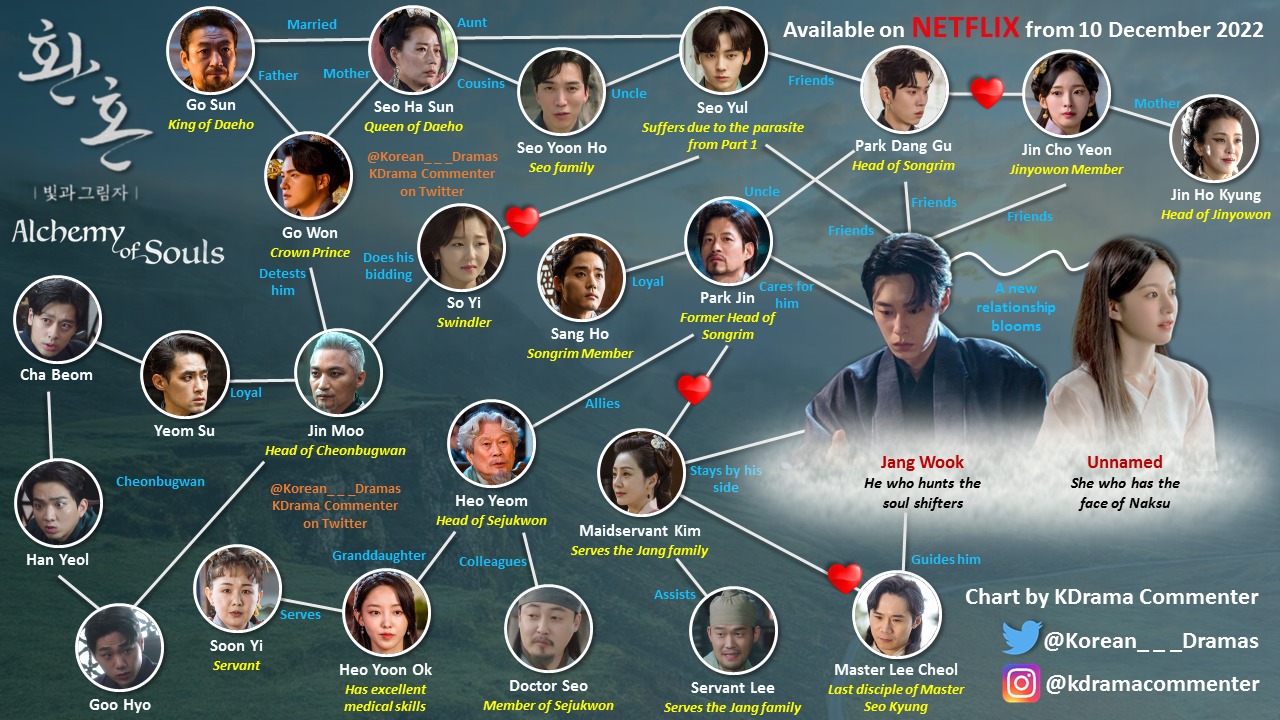 Quotes Line from Drama Alchemy of Souls Season  2 Episode 1
Jang Uk:
What crime are you guilty of?
Jin Bu Yeon:
Being alive. Existing in this world.
I am guilty of existing in this world when I should not.
I am someone who died a long time ago.
Jang Uk:
Because we are guilty of the same crime.
I am also guilty of existing when I should not.
Heo Yeom:
You are the only friend he has and should not distance yourself from him.
Park Dang Gu:
That is not my intention.
I just do not know how to act around him.
Children with the greatest divine powers always come from the eldest daughters.
-Jin Ho Gyeong-

Jang Uk.
Everyone seems to avoid you.
Just get married while you still can.
I am willing to marry you.
-Jin Bu Yeon-
Jin Bu Yeon:
If my looks do not move you, consider my skills.
You might need my help one day.
Jang Uk:
All right. If I ever need your help, I will find you then.
I would like you to come and take me away.
I will be waiting. Please come for me.
-Jin Bu Yeon-
Quotes Line from Drama Alchemy of Souls Season  2 Episode 2
Jin Bu Yeon:
I will stay with you no matter what.
You can be a thug for all I care.
Jang Uk:
Fortunately, I am not that bad.
I will still be reasonable. Do not worry.
Why did you come for me?
You obviously are not smitten with me,
and you do not seem to pity me either.
What is it that you need me for?
-Jin Bu Yeon-
The most tragic experience is to live your entire life regretting what you could have done.
-Seo Yul-

Jang Uk.
I do not wish to go back.
I like it here and I like you too.
-Jin Bu Yeon-
You should marry someone you wish to spend your life with, not someone who will take your life away.
-Park Jin-
You Can Watch the Legally Korean Drama Alchemy of Souls  Season 2 here
Latest K-Drama  Alchemy of Souls on cafehallyu
Alchemy of Souls Season 1 here 
Captured and written by: sparkling @ cafehallyu
CafeHallyu
is supported by advertising and affiliate links (we'll make money from links you buy at no extra cost to you) which help keep the lights on. If you like what you see, please
whitelist us from your adblocking software
so that we can keep doing what we do.