In Drama Reborn Rich Song Joong Ki, Shin Hyun Bin, and Lee Sung Min star. From November 18, 2022, on JTBC. Reborn Rich brings the story of how dirty the power struggle is within the Korean company, Soonyang Group. This drama with Business, Drama, and Fantasy, themes are adapted from a popular webtoon "Youngest Son of a Conglomerate". Here We provide Quotes Drama Reborn Rich with cast and synopsis.
SYNOPSIS
Yoon Hyun-Woo (Song Joong Ki) has worked for Soonyang Conglomerate for more than ten years. Most of his job is to take care of the family who runs the business. His job is similar to a servant's, but the conglomerate family wrongly thinks he stole money from them. Then, their youngest son Jin Do-Joon kills him. The next thing he knows, Yoon Hyun-Woo is in the body of Jin Do-Joon, the family's youngest son. He decides to get back at the family that runs Soonyang Conglomerate and also runs the business.
DRAMA DETAIL
Drama: Reborn Rich (English title) / The Chaebol's Youngest Son (literal title)
Hangul: 재벌집 막내아들 (Chaeboljib Maknaeadeul)
Director: Jung Dae-Yoon
Writer: San Kyeong (web novel), Kim Tae-Hee
Network: JTBC
Episodes: 16
Release Date: November 18, 2022 —
Runtime: Friday-Sunday 22:30
CAST
Song Joong Ki as Jin Do Joon / Yoon Hyun Woo
Lee Sung Min as Jin Yang Chul
Shin Hyun Bin as Seo Min Young
Jo Han Chul as Jin Dong Ki
Kim Nam Hee as Jin Seong Joon
Kang Gi Doong as Jin Hyung Joon
Park Ji Hyun as Mo Hyun Min
Kim Jung Nan as Son Jung Rae
Tiffany Young as Rachel
Kim Young Jae as Jin Yoon Ki
Kim Shin Rok as Jin Hwa Young
Kang Gil Woo as Baek Sang Moo
Kim Do Hyun as Choi Chang Je
Seo Jae Hee as Yoo Ji Na
Kim Hyun as Lee Pil Ok
Kim Jeong Woo as Woo Byung Jun
Lee Byung Joon as Joo Young Il
Park Ji Hoon as Ha In Seok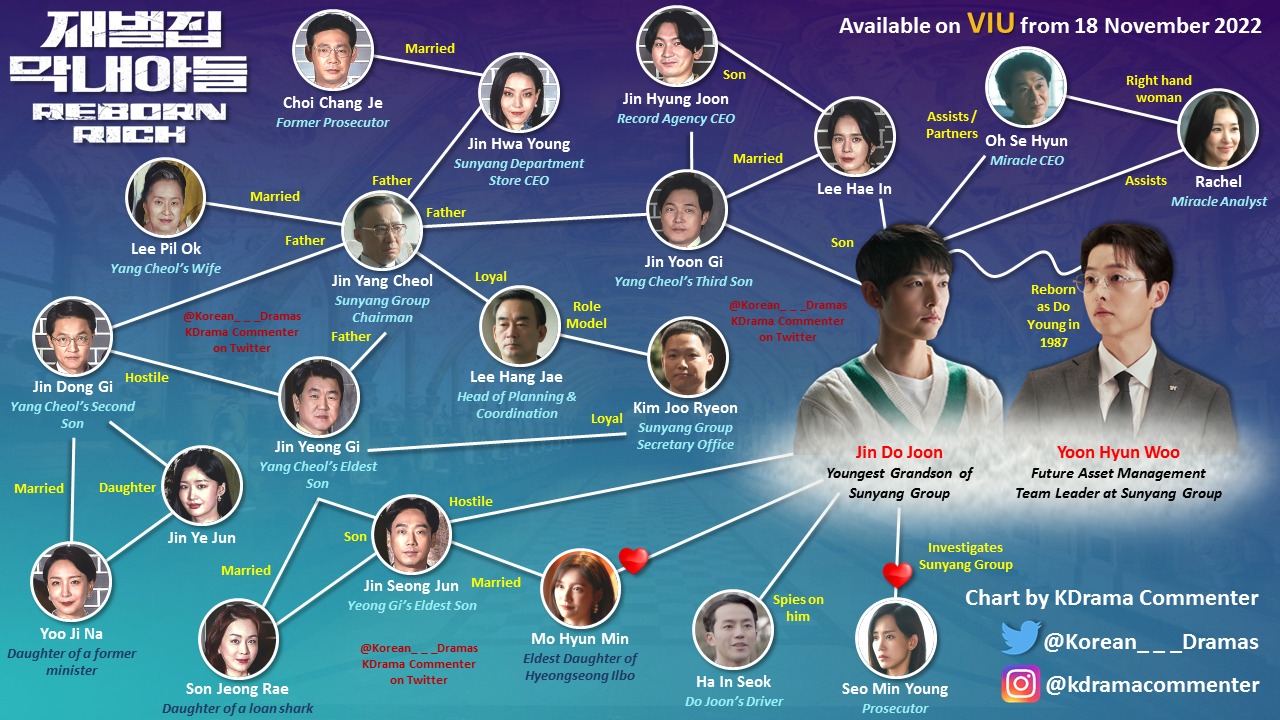 Quotes Line from Drama Reborn Rich Episode 1
Whenever you like.
You became so wealthy at such a young age.
Was it hard work or luck?
-Mrs-
I hear the brutal workload has the average person quit in less than three years.
-Shin Kyung Min-
Pride is a luxury for those who can leave the lifestyle behind.
-Jin Young Ki-
Politics should be conducted from a broad perspective.
-Choi Chang Je-
There are three things I never do.
I never reject orders made by the chairman's family.
I never ask questions, and I never make my own judgment.
Those are my rules.
-Yoon Hyun Woo-
You've done more than enough for Dad and me.
Now I want to help out. You've shouldered the burden so far.
-Yoon Hyun Woo's brother-
You must have a family of your own,
to be able to call yourself a real man and a grown-up.
-Yoon Hyun Woo's Father-
Quotes Line from Drama Reborn Rich Episode 2
People eat less salt to stay healthy, but food must be seasoned enough.
-Lee Pil Ok-
Don't worry about anything and stay by Father's side.
-Yoo Ji Na-
You can't expect all your children to be the same.
Let at least one of them do what they want.
-Lee Pil Ok-
Never bet on things that you aren't sure about.
-Jin Young Ki-
Quotes Line from Drama Reborn Rich Episode 3
No one can beat someone with great luck.
-Jin Dong Ki-
Just because you got into law top of the class,
don't get fancy and have dreams of passing the bar
while you're still in college.
-Jin Hyung Joon-
Never bet on things that you aren't sure about.
-Oh Se Hyeon-
I never rely on luck when it comes to my investments.
-Oh Se Hyeon-
You Can Watch the Legally Korean Drama Reborn Rich on here
All About Korean Drama Reborn Rich  here
Captured and written by: sparkling @ cafehallyu
CafeHallyu
is supported by advertising and affiliate links (we'll make money from links you buy at no extra cost to you) which help keep the lights on. If you like what you see, please
whitelist us from your adblocking software
so that we can keep doing what we do.